So pre-production has been a little stressful on me, mainly because I don't feel like I'm doing enough despite constant reassurances from my peers and tutors that I am. The joke is on all of you, I actually do very little and talk a big game. Ha-ha, and ho-ho. It is to laugh.
With presentations today (oh look, here's mine), I feel like I have very little to offer, but I will write what I can.
I begin with the celebratory statement of: I finished my animatic. Huzzah. It's about 3:30, which isn't bad at all. the link is right over here
I'm pleased with the overall look, but only because from my perspective, I've done what I can. I would very much like input on how to keep things interesting, as I'm afraid it comes off as too repetitive. I also wound up forgetting a few frames, but it gave me the idea to try something different that hadn't occurred to me before.
In one of my favorite animated films, Watership Down, the character Hazel has this speech where he prays to his god pleading for the life of his people. This sequence is structured in a way that flits between what Hazel is doing, and where his people are. This emphasizes the direness of the situation, and the jumps between Hazel and the threat keep the audience engaged.
What I'm hoping to achieve is a narrative that communicates how Little Hands sees herself, and how White Bear sees her. There is one problem however, as I'm concerned that this may come off as a little iffy considering this whole thing has been from Little Hands perspective.
As for my development work, I want to dedicate a majority of my time to value and lighting. I would be more than happy to work on characters more, but I don't think the story can progress unless I flesh out my environment more. I don't think I have a world.
Alec sent me some good videos on value and painting, and those have helped a little bit, but I haven't done enough with them to really earn my satisfaction. Tyler Edlin has a good video about the problems beginners face when starting this technique, and I've really picked up a lot through just this one alone.
He does a good job of explaining the very basics of lighting, and while it's frustrating, I've come to realize how little I actually pay attention to the lighting in my own work and what I need to focus on to get better at it.
I've also been looking at Alex Collins's work for simpler shots. I want to get as many done as possible, and his work is very similar to what I'm hoping for. I like the vastness of his work and his understanding of light and shadow are very clear. I think actually in most of the work that I've seen, I understand what he is doing the most.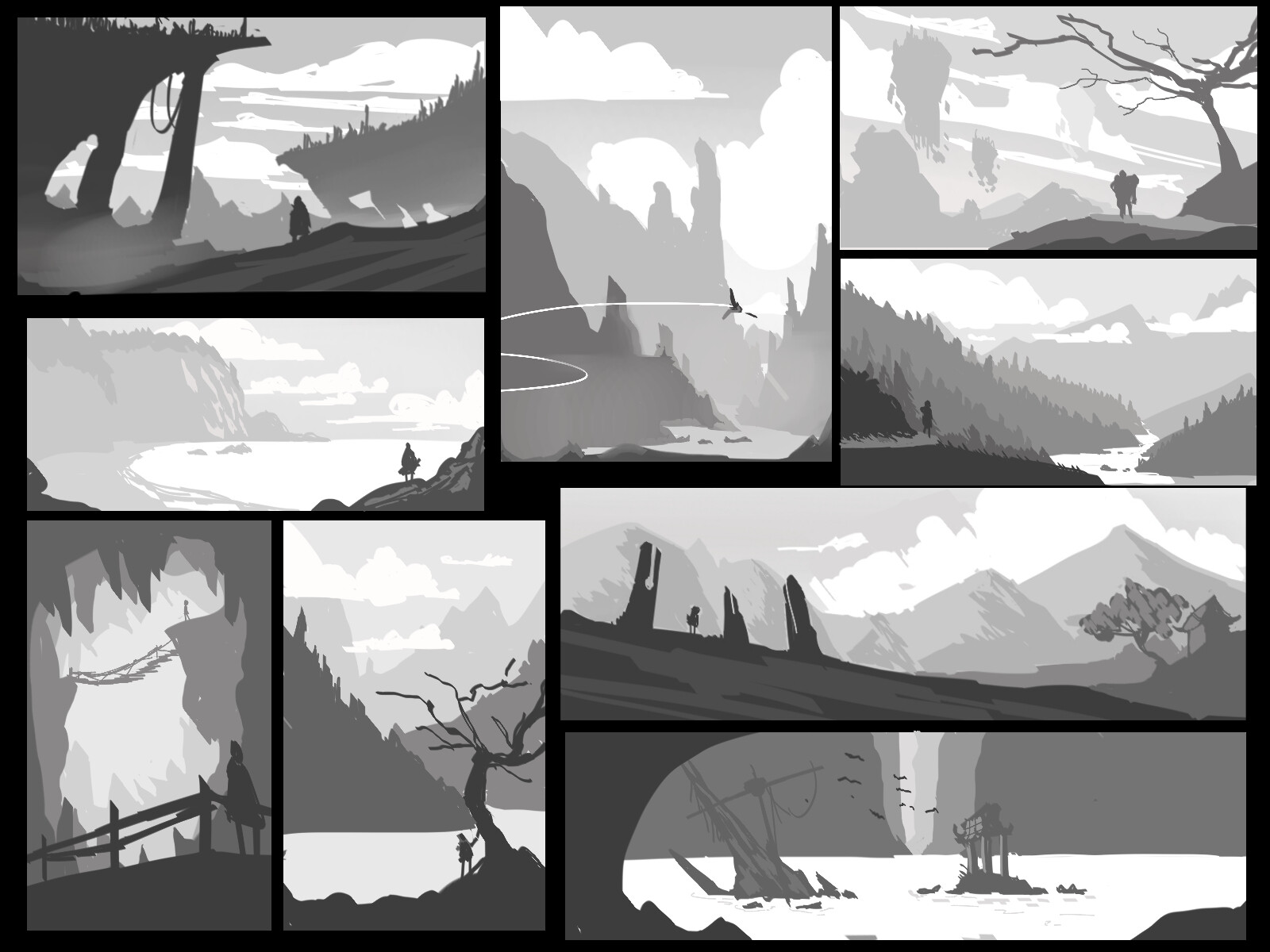 Another artist I've been looking at is Marco Bucci, who is an illustrator who works in the game industry and has so for the past fifteen years or so. His composition pieces are quite pleasing and bouncy and he has some great videos about staging your paintings and working with lighting.
Lastly, I added Nikolai Lockertsen to the list of artists I'll be using for reference. His daily sketches on art station have amazing atmosphere and he's always doing something different with light as well. What I hope to learn from him is mood lighting, which is incredibly important when it comes to the final scene with Little Hands. Lockertsen also has great depth to his work, and I feel as though that's something lacking in mine. I think this has a lot to do with my disregard for the fore, back, and mid ground.
After presenting I got a lot of great feed back discussing my progress, and I'm trying to start trusting them when they say I'm doing well enough. Sarah say that there seemed to be a lack of distinction between the size of  Little Hand's world and White Bear's. This is something I honestly stopped paying attention to when I was making the animatic, and it's such a good point as well. When I do the previs I will keep that in mind and try to work with angle demonstrating the frustration Little Hands feels when she see how big everything is. Hopefully I can better communicate this.
Brian recommended I touch up the 3D bases I made up last month, and I agree. Having White Bear finalized definitely makes things easier, and also allows me to get a better understanding of what he will look like in 3D. Alec has also said I should start the 3D characters, and then come back to finish up the assets. Since it's best to make mistakes now with zbrush, I will get started on that this week.
I still have the old videos Alec sent me last year on character modelling in Zbrush, and I also will ask some friends what they've been doing when it comes to the program. I've used it in the past, but never much to any avail.
So the rest of this week I will see about potentially doing a previs and getting started on sculpting my characters and rigging them.